Plastic Injection Moulded Pallet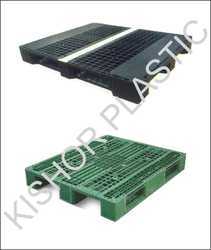 Plastic Injection Moulded Pallet
Product Description
Plastic Injection Moulded Pallet
Application:
Available in various option, these pallets are
design for material handling, storage, cold storage, logistic and distribution for Fruits, vegetables ,Agriculture, Food & Beverages industry , chemical, textile, pharmaceutical, Retail, Marine , Packaging , Postal services , Supply chain logistic industry , Automotive & much more industry
. a concept loaded with unlimited ideas. Ideas limited only by your imagination.
Advantages of injection-moulded plastic pallet:
Highly durable
Easy to clean and maintenance-free
Extremely hygienic as raw materials used in the production meet the food grade regulations
Resistant to corrosion, moisture, termites
Chemical resistant and require no fumigation or heat treatment
Smooth deck and contoured corners for comfortable handling
UV resistant and can withstand a wide range of temperatures
Apt for cold storage as they can withstand a wide range of temperatures (-20 degrees C to + 55 degrees C)
Reliable for road, rail and sea transportation
Stuff large, small, heavy, light as well as bulky items
Available in customized colour and identification
Plastic pallets do not leave any chips like wooden or FRP pallets
Reduced risk of employee strain and injury due to splinters, nail and rust
Smooth deck and contoured corners for comfortable handling
Easy to lifted by fork lift
Tailor made solutions are possible pallets of different sizes and designs as per customers specific needs can be produced
Have good resale value even after long-term use
Eco-friendly as they are fully recyclable
Available in various colours and partition can be tailor-made
Have much better strength against roto-moulded, reinforce roto-moulded pallets & wooden pallets
High resale value from injection moulded pallets
(50% of raw material price in re-usable, slightly damaged condition & 40% in scrape value of plastic)
| | | |
| --- | --- | --- |
| Dimension | Type | Entry |
| 1200x1200x160mm | Roto/Injection | 9 LEG/3 LEG |
| 1200x1000x160mm | Roto/Injection | 9 LEG/3 LEG |
| 1000x1000x160mm | Roto/Injection | 9 LEG/3 LEG |
| 1000x800x160mm | Roto/Injection | 9 LEG/3 LEG |
| 1200x800x160mm | Export Pallet | 9 LEG/3 LEG |
| 1100x1100x140mm | Export Pallet | 9 LEG/3 LEG |
| 1200x1000x140mm | Export Pallet | 9 LEG/3 LEG |