Plastic Corrugated Box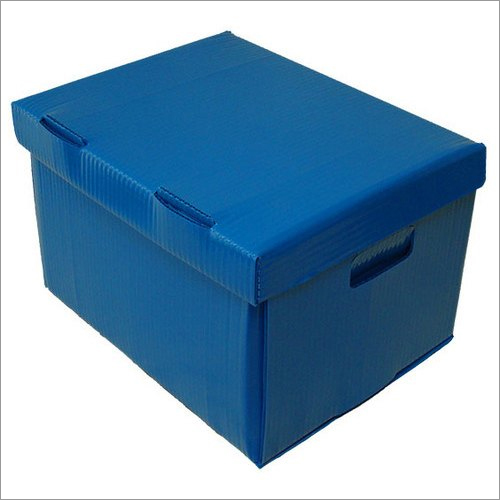 Plastic Corrugated Box
Price And Quantity
Product Specifications
Product Description
This plastic corrugated box, as the very name implies, is a box made from corrugated plastic sheets. Such sheets can be availed in any colour, size and thickness. The light in weight, yet durable box resistant to water, all weather conditions as well as harsh chemicals. This box can be re-used, making it a sustainable packaging container. It comes with a lid to safeguard the products from UV rays, dust and dirt. After exhaustive use of this plastic corrugated box, the user can get it recycled.
As a manufacturer of plastic corrugated box, we take pride in providing our clients with an innovative and durable packaging solution. Our plastic corrugated box is made from high-quality corrugated plastic sheets that are available in a variety of colours, sizes and thicknesses. The box is designed to be lightweight, yet sturdy enough to withstand harsh weather conditions, water, and chemicals, making it a perfect solution for storing and transporting goods.
Our plastic corrugated box is reusable and offers a sustainable packaging solution that not only helps the environment, but also helps businesses save money in the long run. The box comes with a lid to ensure that the products are protected from UV rays, dust, and dirt. Once the box has reached the end of its useful life, it can be easily recycled.
We are proud to offer this versatile plastic corrugated box to a variety of industries, including schools, offices, and businesses. With its rectangular shape and available sizes of A3, A4, and A5, our plastic corrugated box is perfect for organizing and storing files, papers, and documents. Our customers can trust that our plastic corrugated box is of the highest quality and designed to meet their unique needs.


FAQs : Plastic Corrugated Box:
What materials are these boxes made of?
These boxes are made of corrugated plastic sheets, which are lightweight, durable, and resistant to water, harsh chemicals, and all weather conditions.


What sizes and shapes are available?
Our plastic corrugated boxes come in a variety of sizes, including A3, A4, and A5, and are shaped like rectangles.


What are some common uses for these boxes?
These boxes are versatile and can be used for many purposes, including organizing files and documents in an office, storing and protecting items during shipping, and as gift or craft boxes.


Are the boxes recyclable?
Yes, these boxes can be easily recycled after use, making them a sustainable packaging option.


Do the boxes come with a lid or cover?
Yes, each box comes with a lid to help protect its contents from dust, dirt, and UV rays.


What colors are available?
Corrugated plastic sheets can be made in a wide range of colors, so we can offer boxes in a variety of hues to suit your needs.
Product details
| | |
| --- | --- |
| Shape | Rectangular |
| Material | Plastic |
| Brand | Kishor Plastic |
| Color | Blue |
| Box Capacity | 1-5 Kg |
| Usage | Gift & Crafts |